Online Fundraiser Open to All!
Voices of Tomorrow: Their World on Stage
A StudentsFirst Virtual Showcase
Join us on December 9, when the powerful artistic works created by CPS students in our Drama in the Schools program are performed by professional Chicago actors during a free virtual showcase.
Chicago students have experienced a year unlike any other—the 2019 teacher's strike, the covid-19 pandemic, and civil unrest and urgent calls for social justice have radically reshaped the ways we live and learn. Utilizing skills learned from our Drama in the School curriculum, students will lift their artistic voices to shine a light on their ever-changing world, create societal change, and tell their own stories. Every student whose work is selected for the showcase will receive a scholarship and see their pieces brought to life in this online event on December 9.
Click the December 9 square on the calendar, then hit "RSVP" in the box that appears below the calendar. You'll need to log into or create a Victory Gardens account to complete your registration. The day of the event, you'll receive an email with instructions on how to access Voices of Tomorrow, at the address you registered with.
Keynote Speaker: André De Shields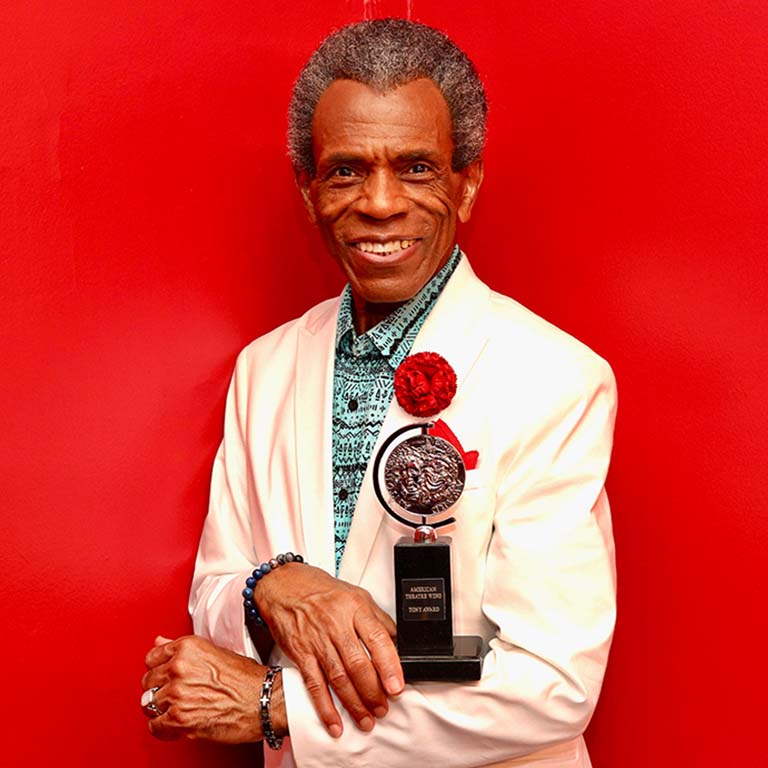 Hear his insights as an artist who has embraced his power to make an impact both in his community and the world. In his career spanning 50+ years, André is a distinguished Grammy, Emmy, and Tony Award-winning actor, director and educator, and the 2019 "Triple Crown" winner for his portrayal of Hermes in Hadestown.
All donations support StudentsFirst, Victory Gardens Theater's commitment to serving Chicago youth through immersive arts education. A donation of any amount will make a huge difference in helping Chicago's students lift up their voices.
---
Our robust arts education department, led by Roxanna Conner, provides new and meaningful learning through arts experiences. This program gives our young citizens a deeper appreciation of theater as a living, breathing art form. In our flagship program, Drama in the Schools, experienced teaching artists partner with classroom teachers to lead students through sessions that encourage them to find and use their voices, with three units focused on Storytelling, Character, and Playwriting. The Scholarship Subscription Series brings students and teachers to Victory Gardens for a performance, along with providing educational study guides and activities related to each production. Each matinee includes a post-show discussion, allowing students to interact with actors and theater professionals following the performance.
---

Amplifier Sponsor
Sue E. Wallace
Megaphone Sponsors
Janice Feinberg, Joseph and Bessie Feinberg Foundation
Laura Matalon and Spencer Waller
Jeffrey Rappin and Penny Brown
Kate Tillotson and Coffman Law Offices
Charles E. Harris, II
E. Patrick Johnson and Stephen J. Lewis
Brienne Letourneau and Richard Bailey
Tony and Anne Ruzicka
Weiss Grosshandler Charitable Fund
Willkie Farr & Gallagher LLP
Virginia Fitzgerald
Golden Country Oriental Food LLC
Marcus and Amy Nunes – Chico and Nunes, P.C.
Raveen and Sapna Rao
Voices of Tomorrow: Their World On Stage Host Committee
Anuradha Behari*
Penny Brown*
Chanel W. Coney
Brienne Letourneau
Kate Tillotson*
Sue E. Wallace*
* denotes member of the 2020-21 VG Event Planning Committee
Interested in sponsoring this event? Please contact Kelly Carr, Development Associate, at kcarr@victorygardens.org or 773.634.9858.