Victory Gardens' state-of-the-art upstairs studio space, named after Chicago Tribune Chief Critic Emeritus Richard Christiansen.
Seating 109, the Richard Christiansen Theater maintains intimacy while allowing comfort for both audience and performers. Production companies will benefit from our sound and light packages, backstage area with two dressing rooms, and front of house services.
About Richard Christiansen
Victory Gardens honors the life and legacy of Richard Christiansen, who passed away Friday, January 28, 2022 at the age of 90. Founding Playwrights Ensemble member Jeffrey Sweet shares Richard's impact on not only our theater, but the entire Chicago performing arts community:
"Critics mostly don't directly engage the artists they cover. There's a story that when a theater was named after him on Broadway, Brooks Atkinson met for the first time many of the people he had been writing about for decades. The idea is to avoid anybody suspecting your integrity by not socializing with the folks you're going to write about. And, in the abstract, it's a good principle.
But Richard didn't just write about the community, he was a part of it. He figured out a way of being a warm presence in the lives of many of us and still left no doubt that he held fast to his standards. Generally, he wrote very supportive reviews of my shows in Chicago, but I remember being perversely pleased when he was less than enthusiastic about one of my plays because it reaffirmed the fact that he wouldn't hesitate to write what he believed was the truth despite our friendship.  And it made me value the good reviews all the more.
We felt a particular tie to him at Victory Gardens (though I imagine that folks affiliated with other companies would say the same). It was he who nominated VG for the regional theater Tony Award we received in 2001. It was also he who rallied in support of the artistic leadership (Dennis Zacek, Marcie McVay and Sandy Shinner) at a point when some were applying pressure to step away from the mission of producing new plays. I thought it was particularly appropriate that we named our new theater after him.  And I know he was chuffed by the honor."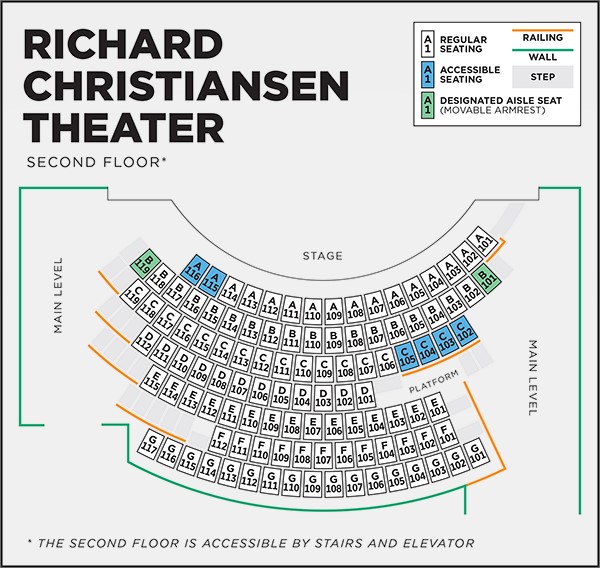 Theater Features:
Fully ADA Compliant House – 109 seats, 20 are flexible
Stage – 37'2″W x 20'0″D x 13'3″H; 14″ deck height
Small light package including standard light inventory, light board, cabling
Small sound package including microphones, amps, speakers and playback devices
2 dressing rooms (each comfortably seats 4)
2 private restrooms
Access to shared kitchenette which includes refrigerator, microwave, coffeemakers, and a sink
Staffing available for an additional fee
A parking garage is available at 2316 N. Lincoln, 1/2-block south of Fullerton, with a special theatergoer rate of $7 for 4 hours of parking: simply bring your ticket to the theater for validation to receive the discounted rate. Street parking is also available along Lincoln Avenue for $2.50/hour.
Please contact rentals@victorygardens.org for more information. No phone calls, please.